SERVER

Server 1

Server 2

Server 3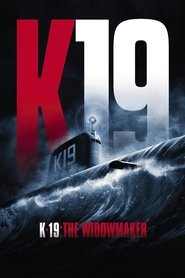 K-19: The Widowmaker (2002)
K-19: The Widowmaker – Pada masa puncak ketegangan perang dingin, Kapten Alexi Vostrikov (Harrison Ford) diperintahkan untuk mengambil alih kepemimpinan dari kapal selam K-19 yang memiliki peluru kendali kepala nuklir, kebanggaan angkatan laut Uni Soviet. Tugasnya adalah menyiapkan K-19 menuju laut lepas dan membuangnya dari peredaran, berapapun besar resikonya.
Tetapi masalah dengan K-19 muncul, yang mengarah pada penghancuran dan ledakan yang ditimbulkan, yang pasti akan mematikan semua yang berada dalam kapal dan akan memicu perang nuklir. Vostrikov harus memilih antara tugas dari Kremlin dan nyawa dari semua awak kapalnya.
English
When Russia's first nuclear submarine malfunctions on its maiden voyage, the crew must race to save the ship and prevent a nuclear disaster.
Views: 8037
Genre: Drama, History, Mystery, Thriller
Director: Kathryn Bigelow, Steve Danton
Actors: Donald Sumpter, George Anton, Harrison Ford, James Francis Ginty, John Shrapnel, Joss Ackland, Liam Neeson, Peter Sarsgaard, Steve Nicolson, Tim Woodward
Duration: 138 min
Quality: Bluray
Release: 2002